At Full Circle Yoga KC mommy and me yoga is open to all possibilities!  It's not your typical yoga class and that's what we love about it! Babies cry, that's okay! Babies sleep, that's okay, a little extra YOU time! Babies become YOGIS! We celebrate all mamas and babies right where they are!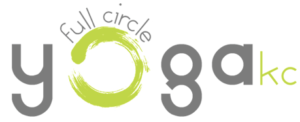 Mommy and me yoga classes consists of five parts: warm up for mommy, baby massage, mommy yoga, mommy and baby yoga, and shavasna.  Based on babies needs we mix this up, because at mommy and me yoga we go with the flow!
Top 3 Baby Yoga Poses:
Warrior 2-  A pose of confidence! Such a great pose to do together as you breath in confidence and exhale extending that confidence to your baby.  Baby can be on bent leg facing out or on mama's chest, depending on age of baby and baby's balance.  This pose strengthens the arms, legs, abdominal muscles, and pelvic floor.
Side Angle- A pose the lengthens and the entire side while opening the chest.  This pose activates the oblique muscles that most mamas find weak postpartum.
Wide-legged Forward Fold- bringing the heart below the hips calms the nervous system and for many new mamas this is such a relaxing pose.  While holding baby, this pose is great to bring back the abdominal muscles, elongating the spine that often finds odd positions while nursing, and opens the be backs of legs.
*Remembering these poses can be done with our without baby, you get to decide what works best for you and your little one.