What is Cranial Sacral Treatment (CST)? It is a gentle noninvasive form of bodywork to realign the head, spinal column, and sacrum for restored balance.  I like to describe it as chiropractic work without the manipulation. And, the best kept secret for body balance!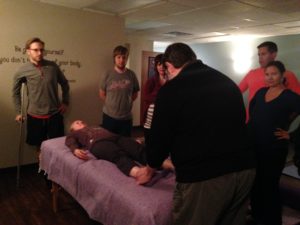 I was hesitant to go to a chiropractor because I didn't want physical manipulation and I didn't want treatment to become a part of my routine.  However, after recently having my first cranial sacral treatment I was amazed at my improved overall feeling of balance and alignment.  For weeks my hamstrings had been tight despite yoga, stretching and strengthening.  With the cranial sacral treatment it made an immediate difference in the tightness!
Cranial Sacral Therapy can be a wonderful way to care for yourself while pregnant as well as postpartum.  Our center of gravity shifts, we gain weight during pregnancy, our body is working overtime to grow a little human all of which can disrupt our balance and create discomfort.  Postpartum, we are reconnecting with our bodies, we find ourselves in the most peculiar positions for nursing or feeding, and general anxiety of parenthood can throw our balance off, again, creating discomfort.
Recently, Full Circle Yoga KC joined up with Lee Veal to offer a special event for mamas and partners.  What an incredible class that allowed mamas and partners to add to their toolbox!  Lee Veal, Advance Cranial Sacral expert, showed simple movement techniques partners could offer mama to support her throughout pregnancy, delivery, and postpartum. Mamas were then able to provide the same resistance work to their partner so each could feel restored balance.  The class focused specifically on the Psoas and Piriformis muscle to help align and open the pelvis.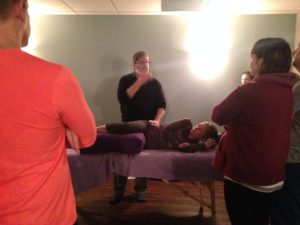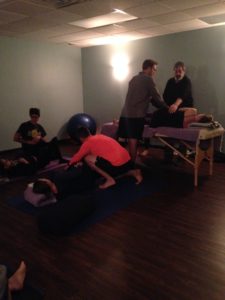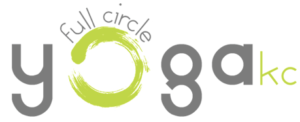 Full Circle Yoga in Overland Park was founded in 2017 by yoga teacher Jenny Hellman focusing on wellness in the early stages of family life from prenatal to early parenthood and the older adult years. Full Circle Yoga KC is an Overland Yoga Studio specializing in Prenatal Yoga, Baby Yoga, Partner Prenatal Yoga and Chair Yoga for seniors.