Prenatal Yoga at Full circle Yoga KC practices being noisy in preparation for birth! So many women, (including myself) are afraid of making noise, or vocalizing during birth.  During my first birthing journey with my daughter I clinched my jaw when I would breath and when it came time to push, I pushed with a clinched jaw.  As a result I broke several capillaries while pushing and made labor and delivery a little more difficult for myself.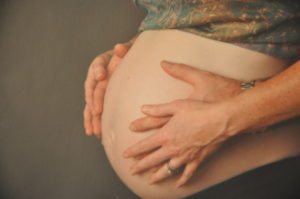 During my second pregnancy 5 years ago, I became certified in Prenatal Yoga where I learned the power of breath and vocalization.  I remember it feeling awkward and a little embarrassing when we practiced during training, but then came time for my second birth, and what a difference it made!! As a result my second labor involved a lot of Aaaahh's to support deep and long breathing, the opening and relaxation of my pelvis, and served as a productive pain management tool when the waves of contractions became more intense.
Professionals such as Ina May Gaskin, Robert Bradley, Barbara Harper, and Maria Iorillo have all spoke of the powerful connection between an open throat and opening of the throat of the uterus, the cervix.
At Full Circle Yoga KC, we practice vocalizations such as Aaaahh's and horse lips to help you understand productive breath, eliminate fear and create confidence for your birthing journey.