Full Circle Yoga KC is an Overland Park yoga studio that specializes in embracing the full cycle of life.   Classes include Prenatal Yoga and Bring Your Own Baby (BYOB) Yoga for those entering the beautiful journey of pregnancy and the transition into motherhood.  Full Circle Yoga KC also offers chair yoga for older adults living in retirement communities who are seeking an added component to health and wellness.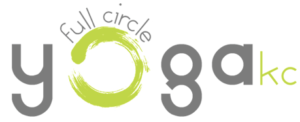 I have been teaching prenatal yoga for over two years.  Recently a door opened that allowed me to open my own studio.  I had been talking, dreaming, thinking about making this jump, but actually making that move seemed scary, maybe a bit silly, and financially risky for my family.  I knew I wanted to bring health and wellness to two generational groups of people in a way that I felt lacked in our healthcare system and in Kansas City.  Rather than fighting upstream in the healthcare system I felt a calling to connect in a different way and offer a scared place for these vulnerable, yet incredibly strong, brave, and beautiful groups of individuals.   Knowing that we all have gifts to offer others, I realized after teaching prenatal yoga I wanted to offer a continuum of support along the journey of motherhood through BYOB yoga.  Watching moms connect with one another during pregnancy and create a supportive community for one another during the beginning stages of parenthood has been so nourishing to my soul.
I have worked with older adults for the past twenty years, and through interacting with this population have gained so much knowledge and wisdom.  When I took my first job as a social worker 20+ years ago it was in a nursing home.  I thought I would just stay there until "I got experience" and move on.  Instead, I became passionate about changing the way we care for our elders.  Through chair yoga, I have the opportunity to focus on wellness and positive energy through the celebration of movement and mindfulness.
With one door closing and another one opening, the birth of Full Circle Yoga KC commenced.